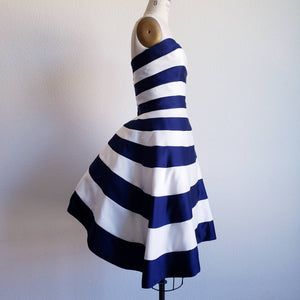 Vintage 80s Blue And White Stripe Victor Costa Party Dress
This has got to be one of Victor Costa's most unique designs ever! The simple strapless dress gets really edgy at the back with its exaggerated puffed out backside. The under-pencil skirt is cream satin with a blue stripeed hem. The bustle back is filled with blue crinoline. The bodice is boned and it zips up the back. It's like a mullet dress-business in the front, party at the back!
Excellent Vintage Condition
No size or content label. Fits like an XS.
Bust: 34"
Waist: 26"
Hip: 48"
Length: 35"
All measurements taken while flat, then doubled and are approximate. For an accurate fit, base these measurements with measurements of a similar garment you already own. Remember to leave room for comfort and ease of fit.

Dress form's Measurements:

Bust: 34"
Waist: 24.5"
Hip: 34.5"

Please note: Colors may vary slightly on-screen due to individual monitor settings