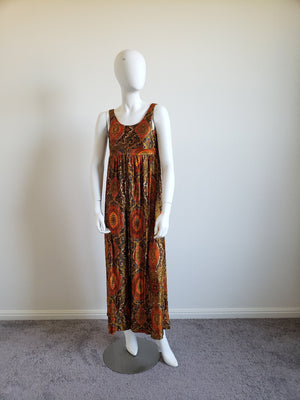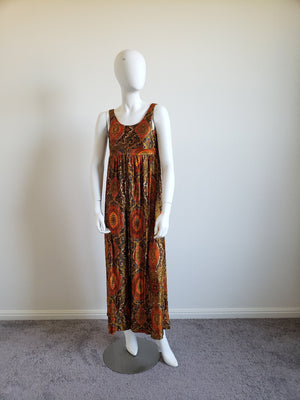 Vintage 70s Paisley Jumpsuit with Fringed Shawl
This is a gorgeous paisley print jumpsuit with matching fringe shawl. Wear over your shoulders, wrap around your waist or wear over your head. Wide legged pants. Empire waist. Horizontal crinkle cut paisley fabric. Zips at back.
Near Excellent: safety pin is holding tie at front of the jumpsuit--not sure if it is supposed to be attached or not.
Bust: 14.5" flat (29" around)
Length from top of shoulder to bottom: 51"
Inseam down from empire waist to bottom hem: 39"
Hip at widest part: 26"
Empire waist: 14" (28" around)
Jumpsuit is rather small around bust area. Wide legs give the illusion it is larger than it really is. Ideal for size XS/S.
Triangular Shawl: 59" across the top (edge without fringe)
Fringed edges 40"
Length from Center to Point: 27"
All measurements taken while flat, then doubled and are approximate. For an accurate fit, base these measurements with measurements of a similar garment you already own. Remember to leave room for comfort and ease of fit.



Please note: Colors may vary slightly on-screen due to individual monitor settings