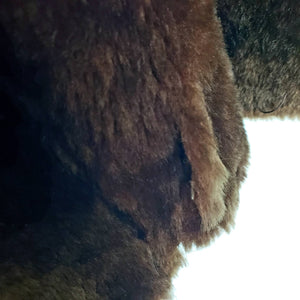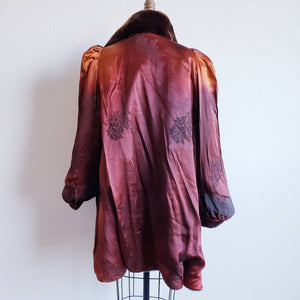 Vintage 70s Fake Faux Brown Fur Swing Coat
This glamorous faux fur coat will bring joy for years! It is very luxurious with its full cuffed sleeves and printed lining. The lining is initialized SL. There is no content or size label which leads us to believe this was a custom made piece.
Very Good Vintage Condition-small section is torn near the back hem (pictured) but hardly noticeable. The closures are also missing.
This will fit MOST.
Sleeve length: 26"
Bust: 52"
Waist: 54"
Length: 37"
All measurements taken while flat, then doubled and are approximate. For an accurate fit, base these measurements with measurements of a similar garment you already own. Remember to leave room for comfort and ease of fit.

Dress form's Measurements:

Bust: 34"
Waist: 24.5"
Hip: 34.5"

Please note: Colors may vary slightly on-screen due to individual monitor settings