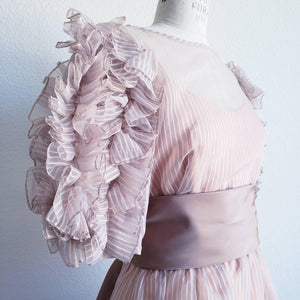 Reworked 80s Vintage Gilbert's For Tally Ruffle Mini Dress
Remixed by Mayumba.
This beautiful vintage dress was remixed by shortening the hem to create a ruffle minidress. A peach lining shines through through brown and white striped chiffon and is topped off with gorgeous puffed ruffle sleeves. No content label. Feels of polyester and/or acetate. Comes with the brown satin sash belt. Not the brown leather studded belt shown in the last picture.
Near Excellent Condition-brown spot on the peach underskirt that is hidden behind the striped chiffon and hardly noticeable.
Has no size label but fits like a small.
Bust: 36"
Waist: 28"
All measurements taken while flat, then doubled and are approximate. For an accurate fit, base these measurements with measurements of a similar garment you already own. Remember to leave room for comfort and ease of fit.
Dress form's Measurements: Bust: 34" Waist: 24.5" Hip: 34.5"
Please note: Colors may vary slightly on-screen due to individual monitor settings